Rain Buster Horse Blankets
Wed December 2, 2020
Winter has just begun to show its face, and this can create several issues for our livestock. The primary issue is that they have not haired up quite like they should because of the recent warm conditions. This is a particular issue for our horses, and the easiest to fix as well. Sudden cold weather can be extremely hard on an animal that is not prepared. Cold adds extreme stress to animals and greatly increases their energy demands. The body burns stored fuel to keep itself warm, and this can be problematic for older and thinner horses.
Keep your horses dry and warm this winter with a Rain Buster horse blanket from Double L Feed in Kerrville. Sizes range from 68" to 82" to meet the needs of most horses. Rain Buster Blankets are made of 600 denier rip-stop polyester, with 200 grams of fiberfill insulation. These blankets are waterproof and breathable with a 70 denier nylon lining. Fleece at the withers prevents rubbing,and under-the-belly cross surcingles and rear leg straps keep the blanket in place. The Rain Buster blanket is tailored to fit with shoulder gussets and is open fronted so that it can easily be taken on and off. Keep your horse warm and looking great in black, royal blue, or turquoise.
Rain Buster blankets are great quality at an even better price. I have been keeping my mules warm during the cold, and sometimes snowy nights, while elk hunting in Colorado. No matter if it is raining, sleeting, or snowing, my mules stay dry and warm under their Rain Buster blankets. Keep your horse warm and comfortable this winter with a Rain Buster horse blanket from Double L Feed.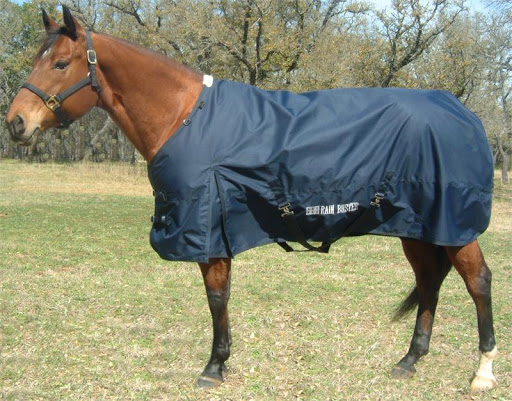 Recent Posts
Mar 2023
Feb 2023
Jan 2023
Dec 2022
Nov 2022
Oct 2022
Sep 2022
Aug 2022
Jul 2022
Jun 2022
Apr 2022
Mar 2022
Feb 2022
Jan 2022
Nov 2021
Oct 2021
Sep 2021
Aug 2021
Jul 2021
Jun 2021
May 2021
Apr 2021
Mar 2021
Feb 2021
Jan 2021
Dec 2020
May 2019