Picking the Right Trailer for You
Tue September 7, 2021
Picking the right trailer for your needs can be a little more challenging than one might think. Taking some time before you go to the trailer lot to consider your needs is a good idea. However, don't ponder it too long, trailer inventory is extremely volatile. Fortunately, we are in relatively good shape here at Back 40 Supply.
Understanding the difference between trailer models will help make your decision a little easier. To start, we stock Top Hat utility trailers here at Back 40 Supply. Top Hat trailers are built tough. Top Hat has a great website that shows the pictures of their utility trailers, along with all of the standard features and upgrade options. This is a great place to start when trying to select what you are looking for. There are a couple of questions I ask customers when they come in and they don't exactly know what they are wanting in a trailer. The first thing is what are you planning to haul, and the second is what else might you use it for? This answer will help you narrow down your selection.
Do you need a single- or double-axle trailer? The size of the load you plan to haul is going to be the first determining factor. Most Top Hat single axle trailers have a carrying capacity of 3000 lbs. This is the total weight the trailer is rated for, and includes the weight of the trailer. So for instance, if the trailer has a 3000 lb carrying capacity, and weighs 1000 lbs, you can only load 2000 lbs on the trailer to reach its max carrying capacity of 3000 lbs. The weight of the trailer is obviously different for different models and lengths of trailers. We stock double-axle trailers with a couple of different axle capacity options. Let's say for instance you are looking at one of the medium pipe options that have a 7000 lb carrying capacity. That trailer is going to have closer to a 2000 lb trailer weight, but with the extra axle, gives you a 5000 lb cargo capacity. As you can see it is important to know what the weight of the cargo you intend to haul is. From there we can find a trailer that will fit your weight capacity needs. A second thing to consider when deciding between single- or double-axle is that a double-axle trailer is generally safer and easier to pull. These trailers are more stable and are more forgiving. They also handle blowouts and other tire related issues much better than a single axle trailer.
Knowing the size of what you are carrying is also extremely important. We stock Top Hat trailers stocked in a 5 ft., 6.5 ft., and 7 ft. wide options. Lengths range from 8 ft. to 16 ft. in your standard light and medium duty utility trailers. It is really important to know the dimensions of what you are planning to haul, and getting by with the bare minimum is generally not the best idea.
Finally when looking for a light duty trailer (8 ft. to 14 ft.) there are options for angle iron top or pipe top trailers. Pipe top trailers are considered to be more heavy duty. I am not big on trying to over sell people trailers, so this decision can sometimes be tough. My thought is that if you are in the market for a 8 ft. to 10 ft. utility trailer, you are going to have a hard time doing anything that structurally stresses that trailer to justify the need for a pipe top over an angle top trailer. When we get to the 12 ft. and 14 ft. models, then we can debate that a little more.
The length of these trailers creates more opportunity for these frames to flex, causing stress on the top rail. If you plan on taking the UTV out to the lease or in rougher terrain, I would recommend a pipe top trailer in most instances. If you are sticking to the highway for most of your hauling needs and not planning on stressing the limits of the carrying capacity, I would take the savings and go with an angle iron top trailer. Buying a new trailer can be stressful. You want to make sure you are buying the trailer that will meet your hauling needs, but no one can afford to buy more trailer than they need. Here at Back 40, we strive to help you find the right trailer with not only our knowledge of our produces, but the experiences we have had on the road pulling trailers. Come by or call today, and let us help you find the trailer that best fits your need.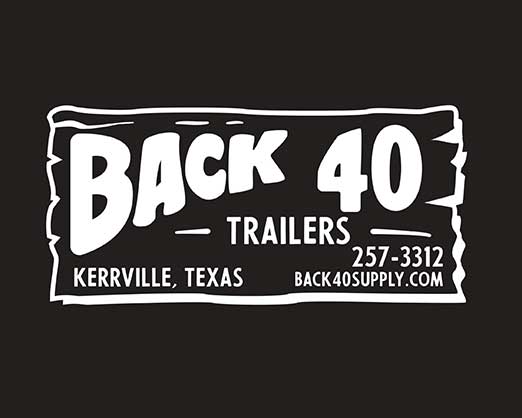 Recent Posts
Nov 2022
Oct 2022
Sep 2022
Aug 2022
Jul 2022
Jun 2022
Apr 2022
Mar 2022
Feb 2022
Jan 2022
Nov 2021
Oct 2021
Sep 2021
Aug 2021
Jul 2021
Jun 2021
May 2021
Apr 2021
Mar 2021
Feb 2021
Jan 2021
Dec 2020
May 2019