Gearing Up For Hunting Season
Tue October 4, 2022
Depending on what you hunt, where you hunt, and how you hunt, hunting season is here or almost here. Take the hassle out of getting to the lease with all of that gear with a new Top Hat utility trailer. With a great selection and pricing come see what Back 40 Supply has to offer. It doesn't matter if you are chasing elk or mule deer out West, heading out for archery season, or just gearing up for rifle season, getting your gear there can be stressful.
Back 40 has a great selection of single axle and double axle utility trailers to meet your needs. When trying to figure out what kind of trailer you need, there are several things to keep in mind. The first question is, what size trailer do I need? Measure your UTV or whatever cargo you are hauling and know approximately what it weighs. Most UTV or side by side vehicles require a 12 ft trailer or longer. Keep in mind that this might not be the only thing you are hauling, so consider factoring in a little extra length for ice chests and other gear. Knowing how much you need to haul is equally important. Single axle trailers are rated for 3000 lbs. This number consists of cargo and trailer weight. Trailer weights usually start at around 1200 lbs, and get heavier the bigger they get. Double axle utility trailers stat at 6000 lbs, and they get bigger from there. These trailers' payload capacities start at around 4300 lbs and increase with axle capacity. Lengths in double axle trailers start at 12 ft and are stocked up to 20 ft here at Back 40.
When on the bubble of whether to go with a single or double axle, always think about what else you might need to bring. It is easy to under load a trailer, but it is never safe or advised to overload a trailer. Also consider the possibility of experiencing a tire related issue. A heavily loaded double axle trailer will handle a blowout or flat a lot better than a single axle trailer. A double axle trailer can also continue to be pulled to a safe location, where a single axle trailer could become immobile where the problem occurs.
If you already have a trailer, it is important to go through it before you hit the road. Part failure due to lack of maintenance could ruin a trip in a hurry. Check all the components of your trailer to make sure they are in good working order and will withstand the trip. We have a great selection of trailer parts available if you need to make repairs, or they can be ordered and in stock in a week or less in most cases. If you need someone to help you make repairs, we work closely with Texan Repairables here in Kerrville, and they can help you get in hauling shape.
Get out and enjoy the outdoors however you plan to this hunting season. Don't let hauling your gear be a hindrance on your enjoyment. Come by Back 40 today, and let us help you make this a successful hunting season this year.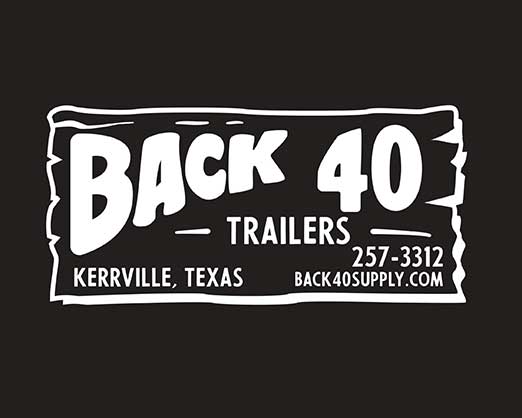 Recent Posts
Jan 2023
Dec 2022
Nov 2022
Oct 2022
Sep 2022
Aug 2022
Jul 2022
Jun 2022
Apr 2022
Mar 2022
Feb 2022
Jan 2022
Nov 2021
Oct 2021
Sep 2021
Aug 2021
Jul 2021
Jun 2021
May 2021
Apr 2021
Mar 2021
Feb 2021
Jan 2021
Dec 2020
May 2019