DEMON WP - An Early Spring 'Adios' for Bugs
Mon April 5, 2021
Demon WP is a residual insecticide concentrate with the active ingredient Cypermethrin. Cypermethrin is in the synthetic pyrethroid class of insecticides. It is a man-made,active ingredient that attacks the central nervous system of insects that come in contact with it or ingest it. Demon WP is diluted with water and applied with a gallon pump sprayer. After it dries, Demon WP continues to work for up to 3 months. Demon treats a variety of crawling and flying pests including (but not limited to) ants, boxelder bugs, cockroaches, crickets, earwigs, scorpions, spiders, and wasps.
Demon WP (Water-soluble Packets) Insecticide is for crack and crevice and/or spot applications for residual and contact control of ants, carpenter ants, cockroaches, Crickets, spiders and certain other insect pests. The Demon WP water-soluble packets make mixing and using it very easy when used with a 1-gallon compressed air sprayer.
Demon WP (Wettable Powder) is excellent for larger, tougher pests such as cockroaches, spiders, scorpions, or stink bugs because there is a high concentration of active ingredient. Demon WP is labeled for a wide variety of pests, however, making it an extremely popular general use insecticide for perimeter treatments outdoors or crack and crevice treatments indoors.
The wettable powder formulation also makes Demon WP ideal for porous surfaces such as concrete since the individual particles of active ingredient are larger and can more easily stay on top of the surface.
Demon WP leaves a white powdery film that may be visible on darker surfaces. For applications where this is a concern, consider using a liquid concentrate instead.
Demon is an excellent all-around pesticide but also works great for individual fire ant mounds, where you can apply Demon WP as a drench. Gently sprinkle a total of one gallon over the surface of mounds up to 12 inches in diameter. Use 2 gallons for larger mounds. Thoroughly wet the mound and surrounding area. Treat new mounds as they appear. Pressurized sprays may disturb the ants and cause migration. If possible, applications should be made on warm days after a recent rainfall. All colonies in the vicinity should be treated, including those that have not yet constructed a mound.
Demon is a great product to help protect you from all kinds of pests in and around your home. Stop by either Double L Feed Store and visit with our staff about this unique and easy-to-use insecticide.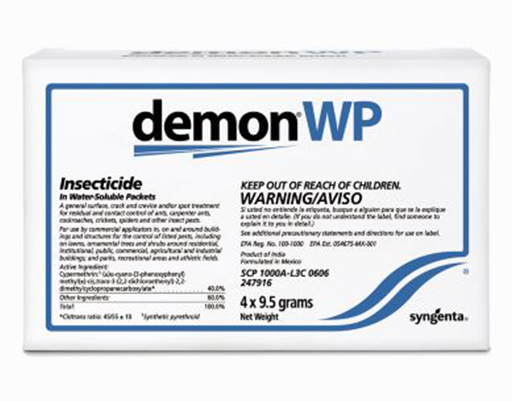 Post Tags
Recent Posts
Nov 2022
Oct 2022
Sep 2022
Aug 2022
Jul 2022
Jun 2022
Apr 2022
Mar 2022
Feb 2022
Jan 2022
Nov 2021
Oct 2021
Sep 2021
Aug 2021
Jul 2021
Jun 2021
May 2021
Apr 2021
Mar 2021
Feb 2021
Jan 2021
Dec 2020
May 2019