Industry Issues Continue to Slow Trailer Supply
Mon July 12, 2021
It is starting to sound like a broken record: everywhere you look supply is short and prices are high. This has been a particular issue to us here at Back 40 Supply for the past year. It is not fun to have to share this news with you, but understanding what is happening is important for you to know so you can better prepare for your needs.
To start, just so everyone understands, Back 40 is not going out of the trailer business. We are having great difficulty getting deliveries of trailers from our vendors. This is a huge issue that is having an impact industry-wide. Trailer manufacturers are so backlogged on getting orders out that many of them are streamlining their production by limiting what they are producing so that they can meet the greatest demands. This is not great news but important for you to understand. What does that mean? Basic utility trailers are going to be built in highest priority. Special orders and specialty type builds like landscape trailers are not being built at this time. The back log is ridiculous; most manufacturers have a year's worth of orders already placed. Many in the industry believe that it is going to take about a year for things to improve to a more normal production level. Struggles are being seen throughout the parts supply houses as well adding to the difficulty of building trailers. Axles, suspension parts, and many other pertinent trailer parts are becoming really hard to get.
With all this "bad news", please understand that we are doing everything we can to try and meet your trailer needs. We have numerous trailer orders pending to try and maintain a supply of the most popular trailer models. We are working with our manufacturers to stay on top of potential build dates and the subsequent delivery date of trailers. We are continuing to turn in trailer orders to keep and maintain our spots in production so that we can try our best to keep trailers available to you. In fact, hitting the lot this month, are some Top Hat Utility trailers that did not fit on a load being shipped out which meant we were lucky enough to get them on our lot.
With such a disruption in the availability of new trailers, the used trailer market is really heating up. If you have a trailer that you don't really need any more, or one that doesn't really fit what you need it for, bring it by and let's take a look at putting it on consignment. I have had a lot of success the last couple of months moving used inventory. This not only helps with the inventory issues we are experiencing, but it is a great way to put a little extra money in your pocket. If you think you have a trailer you would like to try and sell, give us a call.
Back 40 Supply is working hard to meet not only your trailer needs, but also your parts and accessory needs as well. We appreciate your patience and understanding during these unprecedented times. We will do our best to find either what you need, or some alternative that will work for you. Call or come by Back 40 today, and give us an opportunity to earn your business.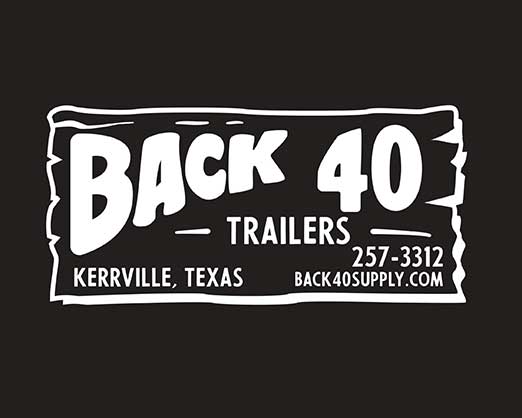 Recent Posts
Nov 2022
Oct 2022
Sep 2022
Aug 2022
Jul 2022
Jun 2022
Apr 2022
Mar 2022
Feb 2022
Jan 2022
Nov 2021
Oct 2021
Sep 2021
Aug 2021
Jul 2021
Jun 2021
May 2021
Apr 2021
Mar 2021
Feb 2021
Jan 2021
Dec 2020
May 2019