Kicking Off Summer with Some Maintenance
Wed June 2, 2021
School is out for summer, and the fun is just getting started. Planning a trip or excursion with your travel trailer, utility trailer, or any other kind of trailer? Don't let a trailer that has been sitting around waiting for the fun to start again ruin your summer plans. Damaged parts that were undetected last year might not make it through another trip. Checking your trailer for worn out parts or broken lights before you try to get away will make your travel so much more relaxing. As you know, Back 40 Supply has closed their shop to maintenance repairs on trailers. However, we have partnered with a really great shop that will be able to take care of you in the most qualified way. Back 40 Supply does still stock a full line of trailer parts for you, or we can order what you need in less than a week in most cases. We have what you need to replace, repair, or upgrade most any parts on your trailer. Don't spend your time on the side of the road or in the repair shop getting work done that could have been avoided with a little maintenance.
Making sure your trailer's safety equipment is properly installed and in working order is not only important to your safety while pulling your trailer, but also to the safety of those around you. Having all of your safety equipment properly installed and in working order will also help you avoid a costly ticket. Safety chains are designed to keep your trailer attached to your vehicle so that you can safely come to a stop. This prevents your trailer from ever coming completely detached from your vehicle. Safety chains should be attached in a crisscrossed, or X, pattern and can be twisted to prevent dragging on the road. Dragging chains on the roadway not only wears out your chains, making them unsafe, but could also cause sparks to fly into dry roadway grass. Many of the charred spots you see on the side of the road are a result of trailer malfunction or improper chain installation. If your trailer does come completely detached from your trailer, and it has brakes, a properly installed emergency breakaway system will cause your brakes to lock and keep the detached trailer from free rolling down the road. Taillights and running lights help motorists see your trailer at night, and like the lights on your vehicle, signal what direction you are turning and when you are stopping. All of these items are available at Back 40 Supply and can generally be easily replaced at home in most cases. If not, we can happily help you find a repair shop to help you.
Stay on the road this summer and out of the repair shop. Give your trailer a good safety inspection, and come by Back 40 Supply today to get all of your worn out and broken parts replaced before you have a major problem. Happy trails!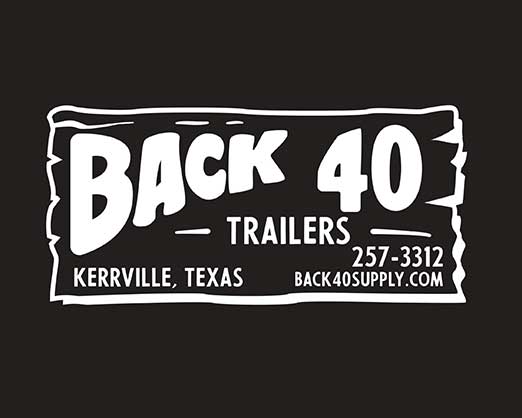 Recent Posts
Mar 2023
Feb 2023
Jan 2023
Dec 2022
Nov 2022
Oct 2022
Sep 2022
Aug 2022
Jul 2022
Jun 2022
Apr 2022
Mar 2022
Feb 2022
Jan 2022
Nov 2021
Oct 2021
Sep 2021
Aug 2021
Jul 2021
Jun 2021
May 2021
Apr 2021
Mar 2021
Feb 2021
Jan 2021
Dec 2020
May 2019