Need a Trailer for Those Spring Projects?
Wed March 2, 2022
With the approach of Spring this month, warmer weather is sure to follow. Warmer weather means an opportunity for you to get out and work on those mounting projects you have been putting off all winter. No matter how big or small your project is, if a trailer will help you get it done, or you need one to get it done, Back 40 Supply is the only stop you need to make.
If you are in the market for a light duty utility trailer, we have a well-stocked inventory for you. We have a variety of 5' to 6.5' wide single axle utility trailers, ranging from 8' to 14' long. These trailers are great for hauling your lawn debris, lawn equipment, and any materials you need to complete your projects.
Do you have bigger projects planned that require bigger equipment? If so, we have a couple of gooseneck trailers that will tackle big project. We are talking about a 20' + 5' dovetail gooseneck with tandem axles and a 25' + 5' dovetail gooseneck trailer with dual tandem axles. These workhorses will take care of most any heavy lifting project you have.
As stocked as we are, I will be the first to admit we are missing a few medium and heavy duty trailers on the lot. However, they are on order and are expected to arrive in the upcoming weeks. With this we are expecting some 16' to 20' bumper pull utility trailers with axle ratings from 7k to 14K. We are also expecting some more dump trailers to arrive too.
If a trailer is what you need to help you get through your projects this spring, get over to Back 40 today. While inventory is good today, you never know how long it is going to last, and the trailer you need today might not be in stock tomorrow. Let us help you find the right trailer to get through the jobs you need to get done.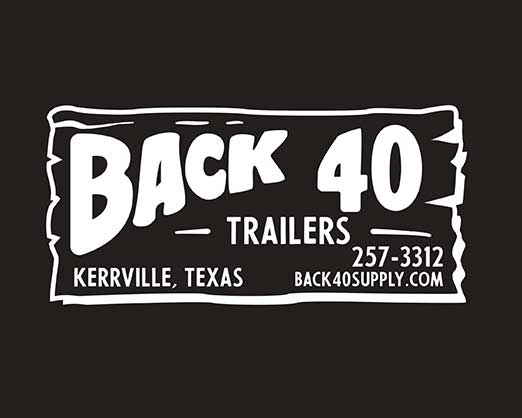 Recent Posts
Jan 2023
Dec 2022
Nov 2022
Oct 2022
Sep 2022
Aug 2022
Jul 2022
Jun 2022
Apr 2022
Mar 2022
Feb 2022
Jan 2022
Nov 2021
Oct 2021
Sep 2021
Aug 2021
Jul 2021
Jun 2021
May 2021
Apr 2021
Mar 2021
Feb 2021
Jan 2021
Dec 2020
May 2019