12 O' Clock by Essential Feed and Nutrition
Fri September 2, 2022
This unique product was created to add mass and muscle shape on top of the backs of show livestock. When added to feed rations, 12 O'clock does a great job of producing a fresh look on the upper one third of the animal's skeleton, creating a clean and expressive topline.
12 O' Clock is 35% protein and 40% fat, and it is derived from egg by-product and animal protein. It has been proven to work effectively in ruminant and non-ruminant animals when used consistently during the last 45 days of the feeding period.
Double L Feed is now carrying this product to replace Game On, due to the large price increase in that product. Stop by and visit with us in Kerrville to learn more about this new feed supplement!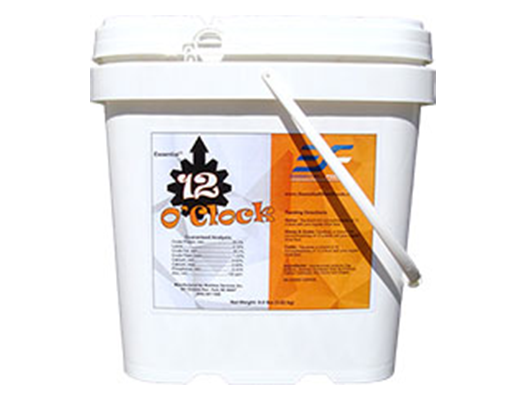 Recent Posts
Jan 2023
Dec 2022
Nov 2022
Oct 2022
Sep 2022
Aug 2022
Jul 2022
Jun 2022
Apr 2022
Mar 2022
Feb 2022
Jan 2022
Nov 2021
Oct 2021
Sep 2021
Aug 2021
Jul 2021
Jun 2021
May 2021
Apr 2021
Mar 2021
Feb 2021
Jan 2021
Dec 2020
May 2019