Finding the Right Trailer for You
Mon April 5, 2021
Purchasing a trailer can be a challenge if you don't know exactly what you need. The toughest question I ask when you are looking for a trailer is always, "what are you going to be doing with it?" In some instances this is a no-brainer and you have a plan, or know specifically what you are doing with it. In a lot of cases the answer is, "it depends" or "I really don't know." I am going to try to provide some triggers to help you think about what you really need, and share some of the options Top Hat has to meet those needs.
In most cases, you have a general idea of what you are planning to use your trailer for. You might be buying it to move a piece of equipment, haul your UTV to the lease, or something else you do regularly. However, there are always going to be needs beyond that. It is not our goal here at Back 40 to oversell you a trailer, but to sell you a trailer that will work for you.
If you have a general idea of what you are planning to haul, the two important things you must know when looking into trailers is how much it weighs and the dimensions of it. You need to buy a trailer that can not only fit what you want on the deck, but also has the payload capacity to carry it. Secondly, think outside the cargo. Are you really only going to carry your UTV or Bobcat on the trailer? You don't want to throw on some feed, an ice chest, or some other attachments? This is why it is critical to have a trailer big enough to handle all of your needs. Overloading your trailer is not only unsafe, but it also puts strain on your trailer that is not engineered to handle. This can lead to costly repairs that can easily be avoided.
Top Hat has a wide variety of utility trailer options to meet your needs. To start, the single axle DSA and DSP models have a 3000 lb total carrying capacity giving you approximately 1500-1900 lb of cargo carrying capacity. These are generally stocked in an 8 ft to 14 ft lengths and a 5 ft or 6.5 ft wide option. These come with several ramp gate options or tilt bed options. The big difference in these two trailers is their tops. DSA trailers have an angle iron top and are generally a little more economical, and DSP trailers have a pipe top. Pipe top trailers are generally "heavier duty" than angle iron trailers. However, depending on what length you are looking for, weight you are carrying, and the terrain you are dragging it over, an angle trailer will often meet your needs.
If you are in need of more payload or carrying capacity, a double axle trailer is what you need. Double axle pipe trailers have total carrying capacities of 3000 lb (EP, economy pipe), 7000 lb (MP, medium pipe), and 10,000 (HP, heavy pipe or LH, Load Hauler). These trailers come with a variety of ramp sizes and configurations. Planning on carrying more? Top Hat has a huge selection of trailers and styles in a 14,000 lb carrying capacity and bigger. The possibilities are far too great to discuss here.
Finding the right trailer to fit all of your needs can be challenging with the many options available. Buying a trailer is a huge investment, and should be carefully thought through. Finding the right point of "enough trailer" without spending more than you need to spend is our goal at Back 40 Supply. Come by and let us help you get into the trailer that most efficiently helps you get the jobs done you need done.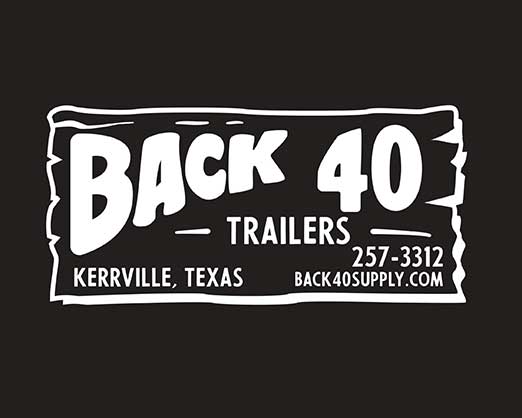 Post Tags
Recent Posts
Jan 2023
Dec 2022
Nov 2022
Oct 2022
Sep 2022
Aug 2022
Jul 2022
Jun 2022
Apr 2022
Mar 2022
Feb 2022
Jan 2022
Nov 2021
Oct 2021
Sep 2021
Aug 2021
Jul 2021
Jun 2021
May 2021
Apr 2021
Mar 2021
Feb 2021
Jan 2021
Dec 2020
May 2019